Georgia Tax Credit Scholarship (APOGEE)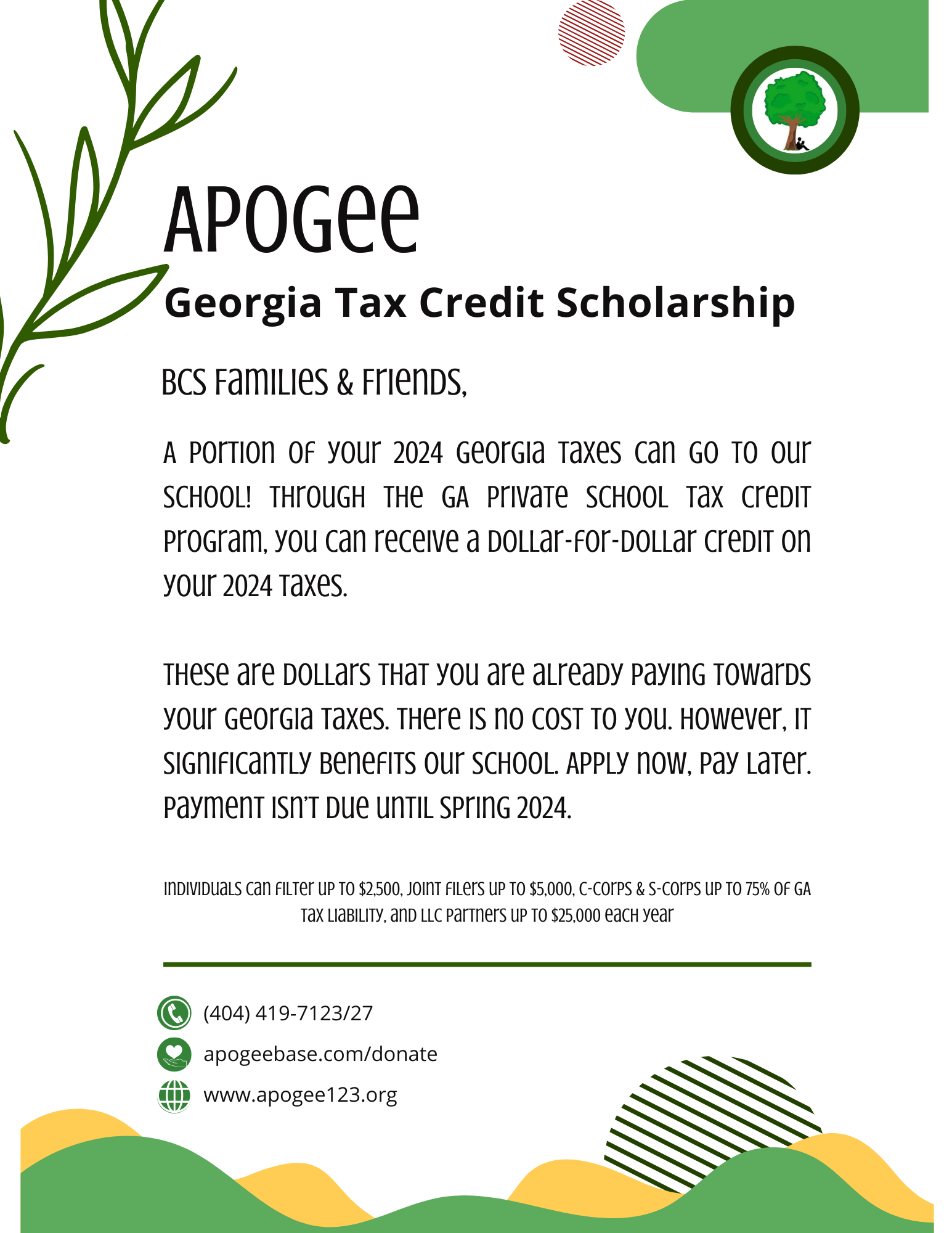 Last year we raised $48,330 and aim to break the $50,000 mark this year!
---
"I was very worried and hesitant about doing it but figured it couldn't hurt to try one year. We did and it was an easy process and our Georgia taxes were exactly less the amount we donated! We have already pledged again for this year! So if you are on the fence- just do it!"
-BCS Parent, 2022
---
F.A.Q
"Do I need to have a child enrolled in BCS to participate?"
No. You do not have to have a child enrolled in our school to do this, so share with family & friends!
"What is a Tax Credit Scholarship and how does it work?"
The Qualified Education Expense Credit program, HB 325 (Tax Credit Scholarship) was passed into law in 2008. Although there have been a few changes, the bills are centered around providing tax credits to Georgia tax-payers who wish to support families seeking educational alternatives to Public School.You can make a donation and receive a dollar-for-dollar Georgia tax credit, AS WELL AS a possible federal charitable contribution deduction depending on your tax situation.
"Does the scholarship award count as income?"
No. When receiving an Apogee tax credit scholarship award, there is no requirement to include the amount as income. This scholarship is given from non-profit organization and as such is not subject to claiming as income on the State or Federal return.
"Is this a needs based scholarship?"
No, although we do strongly encourage schools to consider some type of needs based component in their scholarship award policy.
---
APOGEE RESOURCES
---
APOGEE CONTACT INFO
PHONE: (404) 419-7123/27
EMAIL: CLICK HERE
ADDRESS:
3330 Cumberland Blvd,
Suite 400
Atlanta, GA 30339
---